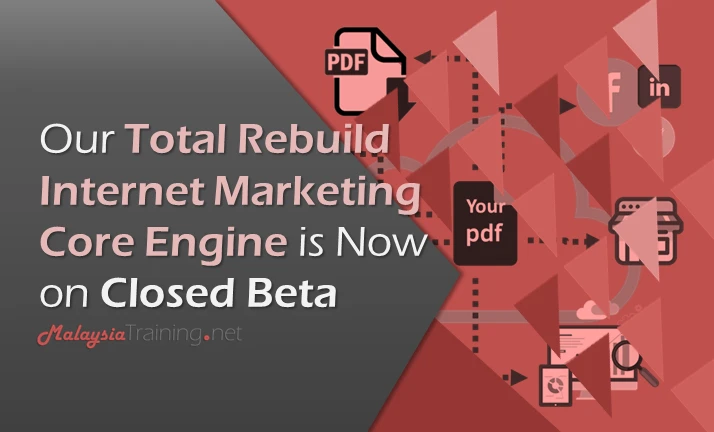 "As hinted since last year, our total rebuild internet marketing core engine is now on Closed Beta. Find out the covering scopes and who can join in this Closed Beta."
Yes, it's our MTN Web Store App that we've been spending more than a year to rebuild its core engine from ground up using the state of the art Google Cloud technologies. It was a tough experience, full of learning curves and R&D, and we finally made it on Closed Beta 1. Closed Beta means we're currently making it available only to our Classic I'MTP members, who are still being strong and very supportive to us since the emergence of COVID-19. Secondly is the PDF Viewer modules that are not yet ready until the mid of May ETA, followed by the online payment gateway integration, which is expected to be completed by end of Jun 2021. Currently we're still supporting the conventional payment methods used by our members -- this is one of the parts that we can't automate at this moment until the readiness of our payment gateway integration.
What we cover in this Closed Beta
For the time being, the Closed Beta is planned to be implemented in three phases for our existing Classic I'MTP members only:
Phase I: Subscription-based Account Management & Reporting Modules (with Google Analytics integration)
Phase II: CloudWorms PDF Viewers Creation, Management, and Reporting
Phase III: Online Payment Gateway Integration
While phase 1 still requires some close monitoring and fine-tuning, phase 2 & 3 are still under development. Although the entire Closed Beta is expected to be completed on 30 Jun 2021, it may still subject to change as we put high expectations on our work -- at least to certain level of acceptable stability and performance rather than keep rushing for deadline without bothering about the user experience and the occupancy of our resources due to countless complaints, which may prevent us from progressing further. Also, along the way of development, some other higher priorities may be discovered and we should be able to act resilience enough to change that and not blindly stick to the initial project plan, unlike many of the traditional
Waterfall Project Management Methodology
. If you're interested in learning
Agile Development Methodology
, you can also take a look at our one of our members'
Scrum Master Certification
courses.
What you can do now
Lastly, while the wait for our MTN Web Store App to be officially available to the public may still be long, we suggest that during the wait, training providers can start to spend some time in preparing more compellingly designed PDF training brochures with higher quality contents targeting on online training and e-learning. Next, discovering the use of Google Drive and Google Docs for your training business will be a great advantage to you when our app has officially gone live.
For our future updates, be sure to subscribe to our blog by clicking the Subscribe button at the top of the page or follow us on Facebook for more exciting good news!