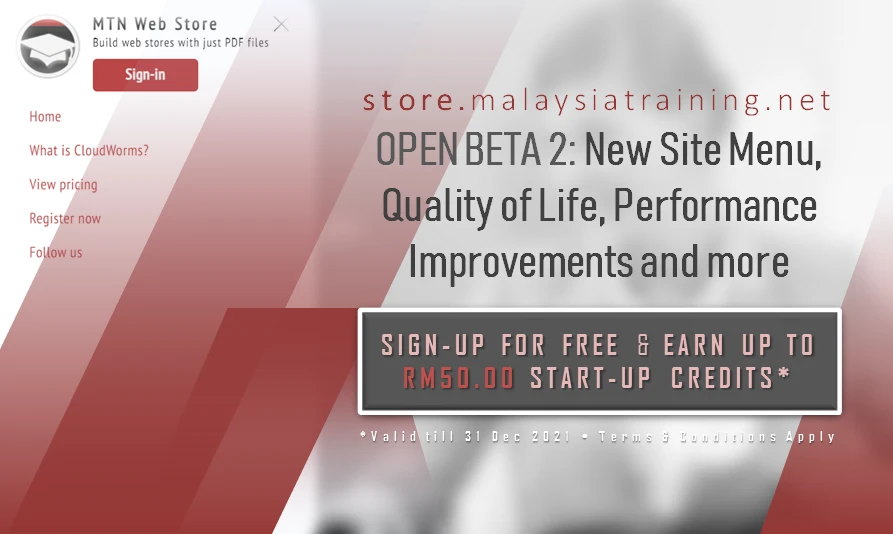 Discover the new improvements that have been made on MTN Web Store App Open Beta 2 and find out why it's worth to join the open beta now.
When we kickstarted the Open Beta 1 back in Sep 2021, it was enough for the business marketers to discover the potential of their PDF marketing contents and what else that they can do with their PDF files in the aspects of digital marketing. In this new Open Beta 2, we're focusing three major improvements:
Performance improvements
Launching of MTN Web Store site's public menu
Quality of Life (QoL) improvements on CloudWorms PDF Viewers
Performance Improvements
From the closed beta 1 right until the open beta 1, there was no compacting of our JavaScript program files as we did not expect a large number of participants in the first open beta. In order to make our MTN Web Store App more readily for larger number of users, we're now able to reduce our total app size up to 63.99%! With this significant reduction in size, it will definitely be able to load and run much faster than before, making it much worthy for more users to participate in this new Open Beta 2!
Meet the New MTN Web Store Public Site Menu
Even if you've yet to be our members and would like to learn more about MTN Web Store App and CloudWorms PDF Viewers, this new
Public Site Menu
can come into handy! Visitors can now easily navigate through our site, from homepage to pricing to registration, by clicking the menu icon on the upper-left corner of
MTN Web Store site
.
The new Web Store Site Menu: Before & After User Sign-in.
If you're a member, you can also sign-in to the app other than the conveniently available sign-in button in the top-middle of almost every page. If you previously have already signed-in, this sign-in button will become Go to App button where you can directly access the app console without signing-in again.
Quality of Life (QoL) Improvements on CloudWorms PDF Viewers
Download PDF Button: Before Open Beta 2, only PDF files stored on cloud storage like Google Drive and Dropbox had the cloud-like download button; this was because if you host your PDF files on your own web server and made use of the direct PDF link, the download button has already built-in to the PDF Viewer. Note that PDF Viewers embedded from the cloud storage provider do not have the download button built-in, that's why we need to create one for them. In order to simplify and unify this complexity, we've finally be able to create a standard and highly noticeable Download PDF button on the upper-right of CloudWorms PDF Viewers. This design will definitely be able to make the download PDF feature more accessible, predictable, consistent, and seamless to the users regardless of how your PDF files are linked with your CloudWorms PDF Viewers.
CloudWorms PDF Viewer's new button design
Custom Branding & Call-to-Action Buttons: To make both of these buttons look more like a clickable button, the design has been changed from Link Button style to Rounded Frame style. The new design has been updated to the preview screen of create/edit CloudWorms PDF Viewers module in MTN Web Store App.
Better use of white space in the Mobile View: Not only with the new design, the newly designed button layout is also capable of offering a more efficient use of white spaces while in mobile view and when scrolling down the PDF Viewer in particular. Through this method, users can have the sticky header shrink more efficiently while reading the contents.
New button design in Mobile View: Before & after scrolling the viewer's header
No more dead footer links: In Open Beta 2, all links in the page footer are now working as expected, linking the users to an appropriate information source.
How to participate in Open Beta?
If you're still unclear about what
CloudWorms PDF Viewer
is, we suggest that you go through our
Quick Look Guide
and
Evaluation Guide
before heading over to the registration page. If you've already studied through either one of these guides, you can go straight to the
New Account Registration Page
.
The registration is free
and the process is quick and simple. After successfully registered a new MTN account, you'll receive certain amount of
free trial credits
depending on the current number of participants:
RM50 if less than 21 participants, else RM30 if less than 51 participants
-- the maximum is 50 participants. If you're number 51, you'll have to wait until the official launch of MTN Web Store App, that is when it is completely out of beta. If you have any further inquiry, do not hesitate to contact our customer service at:
inquiry@malaysiatraining.net
.
We hope you're excited with these new updates and more to come in the future!
Get started now
before the offer is
expired on 1 Jan 2022!