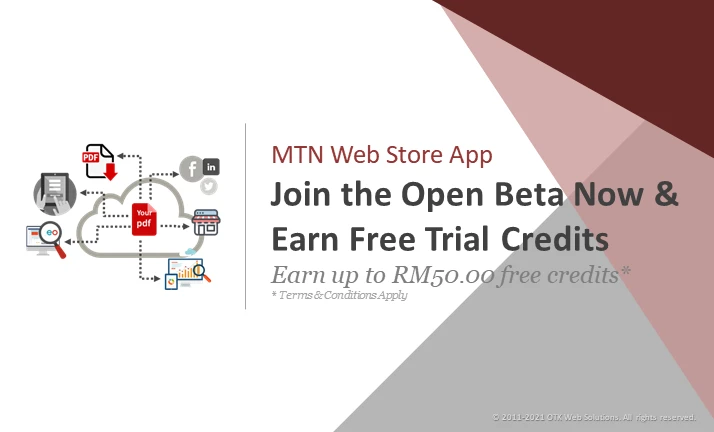 Find out what's new on MTN Web Store App's Open Beta and learn how to participate and earn free trial credits up to RM50.00!
Since the commencement of our Final Closed Beta on 30th June, we took 2 months to test it and enhanced it with more other essential features in order to offer the public a better Open Beta experience. Yes, MTN Web Store App is finally open for everyone, not only for training providers but also for all marketers in all industries and for PDF Content Marketers in particular.
How to get started
To help you to get started without any unwanted surprises, we've prepared the following four items to help you set the expectations right:
More about the Open Beta & Free Trial Credits
Below is the summary of our current plan for Open Beta:
Duration: 01 Sep 2021 to 31 Dec 2021
Maximum participants allowed: 50 new accounts
First 20 participants: RM50 free trial credits after a successful registration.
21st to 50th participant: RM30 free trial credits after a successful registration.
Users can choose to stop using CloudWorms after the free credits have been used up or continue to top-up if they want to leverage it further -- No auto-top-up and no credit card number required during and after the registration except during online payment.
We'll stop accepting new registration once we've reached 50 new accounts before 01 Jan 2022. After end of Open Beta, i.e. on 01 Jan 2022, this limit will be lifted.
Periodical maintenance and upgrades will be conducted. Users are not allowed to login during the server maintenance.
The plan may subject to change to address any unforeseen circumstances.
Moving Forward
During the Final Closed Beta announcement, we revealed some other features that we planned to include in the Open Beta. But after some further consideration plus due to resource shortage, we planned to push the implementation of the said features after the current Open Beta, they are:
CloudWorms I'MTP
Automated Content Visibility Management for Classic I'MTP
MTN Web Store User Company Profiles
We believe the current features equipped with the Open Beta should be enough for most PDF content marketers to meet their sustainability needs during this pandemic. We want to concentrate our resources to improve the quality of the Open Beta for better user experience, which will also act as our efforts to prepare for its final release. Therefore, the above excluded features will be put in the future plan until further notice.
We hope this Open Beta announcement will keep you excited and enable business marketers to see some lights during this pandemic. To proceed with the Open Beta participation now,
follow this link
!