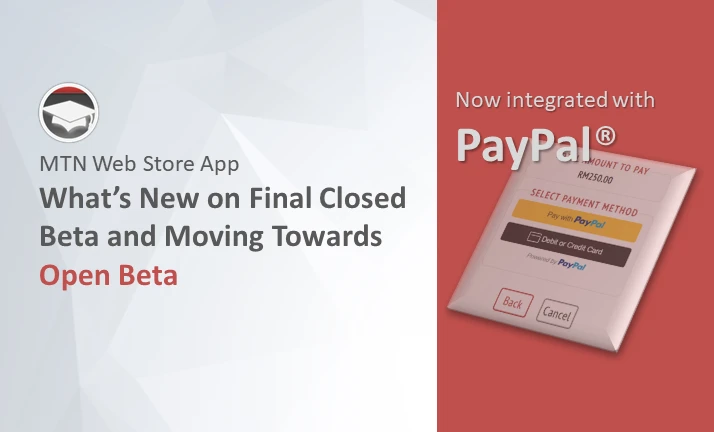 Discover the breaking changes on the Final Closed Beta of MTN Web Store App and our exciting great plan for the upcoming Open Beta!
For almost 10 years, we have been running our online marketing business on MalaysiaTraining.net without the online payment system, not to say having our system integrated with it -- There was no integration at all, not even the Google Analytics! Today, with the MTN Web Store App, not only with Google Analytics, we're now able to integrate with PayPal® in order to support larger number of users through higher degree of system automation.
The old payment methods
In the past, most of our Classic I'MTP members made their payments to us via online fund transfer while others still using direct cheque bank-in. With these methods, some require at least 3 business days for the bank clearance to be taken place. This leads to the following problems:
By the time the bank clearance is done, that particular member's account could have been deactivated due to insufficient credit balance. This could lead to misunderstanding and unnecessary disputes and arguments because the user did make his/her payment while the account is still active (but not 3 days later).
Members need to wait until the bank clearance is done before they can get the receipt from us because mistakes could happen, e.g. date or bank account number has been written wrongly on the cheque; therefore we just can't issue the receipt to acknowledge the payment before the payment has been confirmed successful at the banker's end.
The process to issue the receipt is tedious and error prone due to the manual work on our spreadsheets. This includes manually update the balance tracking spreadsheet and the spreadsheet template to generate the receipt.
We also need to manually verify if the paying account is qualified for certain payment rewards, usually in a form of free credits; if qualified, then we'll have to manually deliver the free credits by updating the member's credit balance and send out the email notification.
As you can see, without a fully automated and integrated online payment system, business model like us cannot survive -- too much work for too little returns at the same time unable to cater for larger number of users.
With the new integrated online payment system via the reputable PayPal service, all the above processes that we mentioned just now can now be done almost instantly, just right after a click of the PayPal's
Pay Now
button! Best of all, the users can pay by credit card or debit card
without having a PayPal account
! You can
read our June 26 Release Notes
to find out more other great changes and fixes on the final version of closed beta.
Moving Forward to Open Beta
Since our announcements for the
Closed Beta 1
&
Closed Beta 2
, we had received quite a number of requests to join our platform. Some even asked if they can join us before the official release of MTN Web Store App -- so here comes the opportunity, the
Open Beta!
But before we can start the Open Beta, we need to wait until the end of Closed Beta 3 (final closed beta), which will be on 31 July 2021. During this period, we'll continue to monitor the stability and performance of the current release so that those who participate in the upcoming Open Beta will be able to enjoy a more stable app with less frustrations.
However, for Open Beta, we're planning to add another few more highly demanded and anticipated features to our Web Store App before opening it to the public:
User Registration Form
This will be the public accessible online form for those who wish to apply for the Open Beta. Although not yet finalized, this user registration form will restrict to only the maximum of 50 participants and offer additional free credits for them to try out the app. We'll announce a more finalized details as we move on.


CloudWorms Internet Marketing for Training Providers
CloudWorms I'MTP in short, will allow the participants to have their training related PDF Viewers listed on MalaysiaTraining.net. The listing will be free but may cost usage per unique page view (UPV) when visited by your potential customers. But as mentioned previously, free credits will be given to the participants and you'll not be charged when all your free credits have been used up. Instead, you'll be given an option whether to continue using the service by topping up your CloudWorms subscription or just leave it if the performance is not up to your expectation -- you lose absolutely nothing.


Automated Content Visibility Management for Classic I'MTP
This applies to Classic I'MTP users only, where their credit balance and subscription status will be automatically tracked before their course content or company profile is loaded and visible to the public. If their Classic I'MTP subscription has been deactivated, although the content will not be visible to the public, excessive usage will also not incur to their account. If this feature has been proven successful, in future, those who have paid for the deposit as credit limit can then be converted as part of their credit balance. Another groundbreaking advantage of this feature is that the user's course content pages and company profile do not have to be unpublished and hence reduces the chance of hurting their SEO ranking.


MTN Web Store User Company Profiles
As mentioned in item #2 above, CloudWorms I'MTP will allow your PDF contents to be listed on

www.malaysiatraining.net

BUT without a company profile that features your products and services. Hence, to compensate this short-coming, we planned to offer a free profile page for all our MTN Web Store accounts. This profile page will feature the contents of the PDF Viewers published by the CloudWorms subscribers. With this profile page, your visitors can then link back to your profile page through your PDF Viewers, in enabling them to discover more of your products and services.
The above new features will be gradually released by stages (but may subject to change) throughout the period of Open Beta, which is estimated to be completely out of beta by end of 2021. In other words, we're planning to officially release the full featured MTN Web Store App by Jan 2022.
We hope you'll find the above news excited and can't wait to get on with us! If you're interested to join us on our upcoming Open Beta, be sure to
follow us on our Facebook Page
and get yourselves informed on the latest development. See you soon!