No April Fools: Introducing our 1st & Powerful Batch of B2M Social Networking Features on MTN Web Store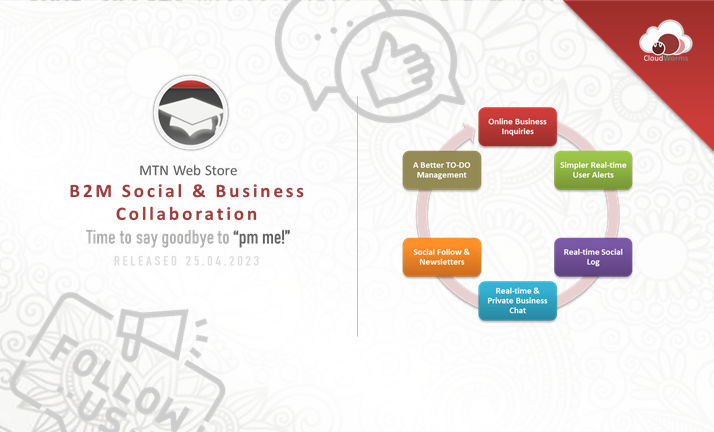 Time to say goodbye to "pm me"! Try out the new fully real-time MTN B2M social networking and business collaboration platform today on MTN Web Store! Features include real-time private chat, TO-DO list management, social follow, and more!
It was all started from a simple idea, that we never expect we could come to this far, at least not this soon. That "simple idea" was just to simply create a related content listing that based on the PDF Viewers posted under the same subcategory by the same publisher. We thought this idea is powerful because it has the synergy to boost the keyword density for SEO at the same time allowing the visitors to discover more other related products and services more easily for more choices. But later, here comes a question: What if the publisher does not post anything more that in this subcategory? There will be no related topics for the visitors to view about and what can the visitors do in this circumstance?
Then another idea came into the picture: Why not letting the visitors ask for more from the publisher? We think this is much more powerful and convincing than having our customer service team to keep pushing our members to post for more. But how the visitors know the publisher has listened to their requests and already have some related topics posted? Then someone said: "I thought we do have a plan to move towards social networking, why not we do it now?" -- Bingo! Right on the nail!
Yes, the term "social networking" is the only one that can answer our questions and makes our related content listing really works. Simply because of these two words, that took us nearly two months to complete the initial stage of our social networking features. Thanks to Google Firestore's onsnapshot real-time database listener that helped us to make this a reality -- Even though it is just our first batch, they're all real-time without having the users to refresh the page, from social follow to user alerts to social log, to our private business chat features, all real-time!
To avoid making this blog post too lengthy, we've posted a full introduction on this new release in PDF on our MTN Web Store, you can take a look:
But there are something else that we would like to highlight them here, which may not be available in that introductory PDF brochure:
To unlock the Social Follow feature, your MTN account needs to be a 'Corporate' type with at least 10 CloudWorms PDF Viewers published.


All account types, including 'Personal', can enjoy all types of online business requests on MTN Web Store and access to the Social Log of MTN Web Store App at no costs. These include the real-time private business chat and the TO-DO list management, all free of charge.
What's Next?
As mentioned in the above embedded PDF Viewer, currently, our Social Follow feature does not do much except to store just your followers information as well as the publishers' information that you've followed. In the next release, we'll roll out the following four major features to further enhance our social networking platform:
Newsletters. The newsletters module will eventually make our Social Follow serves its fundamental purpose, that is to automatically deliver the newly published CloudWorms PDF Viewers to your followers in a form of newsletter, both in-app and email. Unlike other typical social media networks, your followers may not sometimes be able to see your posts even though they're viewing their feed; in MTN Web Store App, all new posts will be guaranteed delivered to your followers in the Newsletters section without mixing up with their Social Log. This allows them to stay focus on what is important to them on Social Log, which is typically for business collaboration purposes. This newsletters module will also act as another way of fulfillment to the related content requests as discussed earlier.


Social Invites. Social invites allow both 'Personal' and 'Corporate' account type users to bulk-invite their friends, family members, customers, and vendors to join this exciting B2M Social & Business Collaboration Platform made in Malaysia! For corporate accounts, invited users who have joined MTN will automatically become their followers (unless the persons have already joined MTN before you've sent out the invites). For personal accounts, you'll gain reward points for each person you've invited. With the accumulated reward points, you'll be able to unlock certain features that we planned to build for Personal account users in future, which may eventually allow them to enhance their personal profile to become a Professional Freelancer or Solo Business Owner. Then at that moment, they can make use of their mailing list that they did for the Social Invites earlier to send out newsletters for their small business (completely free, just the spending of their reward points only).


Converting all PDF Viewer's Custom Call-to-Action Online Forms to Social Actions. Now you've learned that making or receiving a related content request allows you to enjoy all the new powerful social networking features to mange your leads and inquiries. In order to provide you the same and powerful way to the online forms of your PDF Viewers' custom call-to-actions, we'll convert all of them to Social Actions. These include our free simple inquiry form, quotation requisition form, and event registration form that you usually added to your PDF Viewers.


New UI for MTN Web Store App. Too plain? Yeah, we know, especially when more and more features will be coming in the near future. We think it's time to enhance our app UI for a better look-and-feel and usability. But we'll not disclose much here -- let you find out yourselves!
Excited? Yeah, same here. Sometimes I really thought of it until I couldn't sleep well at night, seriously! Ok, no time to waste! If you've not signed up with us, sign-up now and earn free credits to get started! For those who have already signed-up, sign-in now and go straight to the Social Log to learn more!
Enjoy the Malaysian made B2M Social Networking & Business Collaboration Platform! ;-)
P/S: "B2M' = Business-to-Many, which includes B2C and B2B.