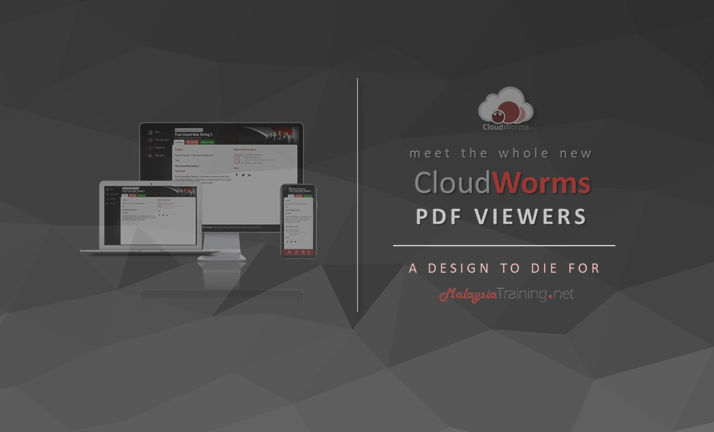 Discover how the complete overhaul of CloudWorms PDF Viewers strives to improve your digital marketing performance through better user experience and SEO.
Too much for a tagline? Well, it could also mean a design that worth for our development team to die for -- yes, really. After an over 1000% improvement of SEO impression on MTN Web Store resulted by our 11th anniversary updates, that inspired us to take this bold step to revamp our CloudWorms PDF Viewers, including its domain architecture design -- the pdfviewer.malaysiatraining.net subdomain will no longer exist, all our users' PDF Viewers have been moved over to store.malaysiatraining.net. The old URLs will be automatically redirected to the new URLs.
But before we go into deeper, which could be quite technical, we've prepared two design specifications in a more graphical manner, smartphone and desktop respectively, which can be easily understood by most non-technical business users:
NOTE: The above was embedded using the Embed feature of CloudWorms PDF Viewers available in MTN Web Store App. You can also do the same on your website when you have PDF Viewers published with MTN Web Store App.
The above two graphical design specifications with the aid of screenshots will help business users to evaluation our CloudWorms PDF Viewers further and ease their decision making.
The Daring Step
As the tagline implies, the complete rework of the new CloudWorms PDF Viewers was a daring step. Not only it involved the whole new user interface (UI) design until the current preview feature is no longer usable, it moves itself over to the web store subdomain and changes its URL structure completely just for the sake of SEO. If you ask us if this worth for the risk, the answer is yes:
Saying Goodbye to PDF Viewer's Subdomain
Without having the web store and PDF Viewer pages sitting on same subdomain, i.e. store.malaysiatraining.net, we have to make the search engines not following the PDF Viewers (

rel="nofollow"

) so that the web store's site value will not out-flow to pdfviewer.malaysiatraining.net; otherwise MTN Web Store will become just like the pages that full of links to external website, that does not have any true content value to the search engines. Perhaps this is why our legacy MTN website has been outperformed compared to MTN Web Store because all its training program listing and course content pages are on the same

www

website.


SEO Friendly URL
To make the URL contains some of the important keywords, the new PDF Viewers now have the category and subcategory names as part of its URL. This will definitely improve its SEO performance in quite a significant manner.


No more double sign-in
By having PDF Viewers sitting on the same subdomain with MTN Web Store App, all users, including those with the PERSONAL account type, no longer need to re-login again after their first sign-up. Although this cross-domain single sign-on feature can be technically done, the new architecture save a lot of our work from having to develop this solution.


The Future Potential
With this new domain architecture design, in future, it will become possible for the content owners to edit their PDF Viewers without having to go into the app itself. As long as they still remain logged on, additional editing icons and buttons will be made visible to them for quick edits while viewing their own PDF Viewers. In other words, we no longer need to build a separate screen just for the preview purpose -- the PDF Viewer will become the what-you-see-is what-you-get (WYSIWYG) content editing screen by itself!


When Performance is Better User Experience (UX)
To Google, performance is part of the UX, so here comes our Tab-based UI Design. The tab-based design isn't just for the efficient use of screen space, especially for smartphone, but it also enables on-demand loading of embedded PDF and online form on initial click of respective tab. This makes our initial page load speed super fast! You may say that online form shouldn't affect much of the initial page load speed, but don't forget, our online form configuration is user-defined and database-driven, which includes retrieval of both sender and recipient information for certain purpose, e.g. form auto-fill etc. Hence, loading everything altogether at the initial stage isn't only offer bad UX but also harm our SEO as a whole.


The Extensible Side Bar Menu
If you look at the two embedded PDF Viewers as shown above, you may notice that only the desktop version has the side bar menu, but let me disclose the secret to you here: Not really! In future, this side bar menu may still available to smartphone users as well! As the name implies, we will add more functionalities to our PDF Viewers as we move on, and the bottom bar of the current smartphone design just not enough to cater for more interactive buttons. Thus, when the time comes, the side bar menu on smartphone will appear as a shrinkable and collapsible menu, leaving just the icons on the side bar or completely hide it from the view if you want to.
Conclusion
Therefore, we believe CloudWorms PDF Viewers 2023 will be a great digital marketing player in 2023 and beyond. It could help many helpless small businesses to survive in the highly competitive digital world. If you're looking for a much affordable digital marketing solution, which isn't just on the pricing itself but also on Cost of Ownership, e.g. reducing IT dependencies and operational costs on digital marketing, CloudWorms PDF Viewers is your answer. To get on with us now, sign-up here for free and earn free RM200 credits to get started!
What's coming next?
If you look at our 2023 Road Map, we may be ahead the schedule, of which the new PDF Viewer was supposed to be completed by end of Feb, but while in the middle of the development, priority changes as new ideas stepped in:
February 2023: When you have seen the final look-and-feel of the new PDF Viewers, the preview feature has no longer as important because not much visual effects can be customized by the users except the text contents. Therefore, we've switched the priority to auto sitemap update when the users published and unpublished their PDF Viewers. This is important for their newly published PDF Viewers to be auto-submitted to Google Search in a more timely manner.


March 2023: As we discovered a new and quicker way to increase the keyword density of the PDF Viewers, that is related content listing (offered by same content owner based on subcategory), tentatively, we planned to drop the Item Standard Specification, which originally being planned to be completed by April 2023. If this related content listing is successful, users would not need to maintain extra contents just for better SEO performance, because such item specification is usually available in their PDF content. We always try to minimize the workload incurred to the users while creating their PDF Viewers.


April 2023: Since the Item Standard Specification has tentatively dropped, extensive SEO auto-mode will no longer be necessary. Hence, we can proceed to the development of MTN Web Store Side Bar and Company Profile Listing as we planned to be completed in Jun 2023.
In other words, what we have planned in our
Road Map 2023
may be completed earlier than expected. As such, users can also enjoy more great features as early as possible.